Work starts on record bridge
(20-07-2009)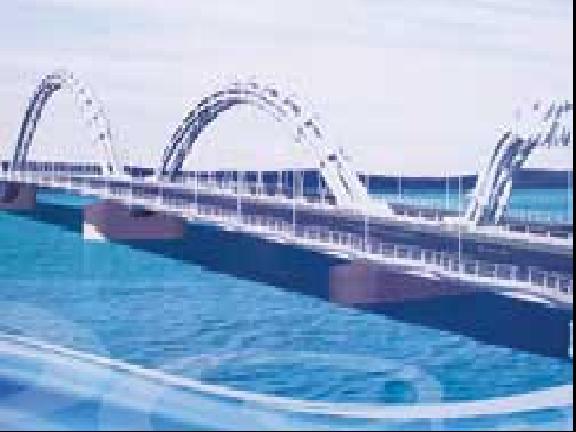 A model of the Rong Bridge spanning the Han River. The bridge is expected to be complete in 2013. — VNA/VNS Photo Van Son
DA NANG — Prime Minister Nguyen Tan Dung cut the ribbon on Thuan Phuoc Bridge in the central city of Da Nang on Sunday.
Thuan Phuoc, the longest suspension bridge in Viet Nam, spans the bay north of Da Nang City, connecting Nguyen Tat Thanh Street with the Son Tra Peninsula and Tien Sa Port to National Highway 1A.
The Mechanical Engineering Joint Stock Co No 623 under the Ministry of Transport in 2003 began construction on the four-lane bridge, which is 2,120 metres long and 18 metres wide.
The project was scheduled for completion in early 2005. However, it was delayed for several years due to technical problems and the city had to mobilise nearly VND1 trillion (US$56 million) to cover construction costs.
Speaking at the Thuan Phuoc Bridge's opening ceremony, PM Dung praised the effort made by Da Nang's people and authorities to build such a modern bridge.
"Da Nang has achieved a major breakthrough in investment for urban infrastructure development, especially in transportation facilities, helping the city develop rapidly and sustainably in the last few decades," said Dung.
"This [investment in infrastructure development] will help Da Nang affirm its leading role in the development of the central region's economy."
Shortly after the opening of the Thuan Phuoc Bridge, Dung broke ground on the Rong (Dragon) Bridge, which will span the Han River in downtown Da Nang.
The new bridge will be 666 metres long and 37.5 metres wide, with six lanes.
Construction of the Rong bridge will cost nearly VND1.5 trillion ($84 million) from the State coffer.
The Da Nang Department of Transport will be the Rong bridge's investor and the US Louis Berger Group Inc will act as consultant. — VNS