Coal industry ups output to 43m tonnes
(23-07-2009)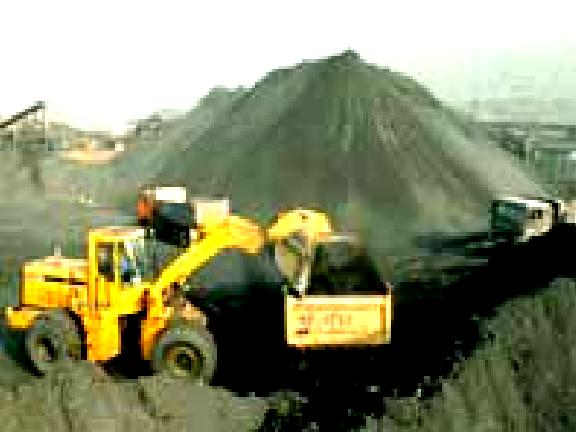 Coal is mined at Mao Khe Coal Mine in the northern Quang Ninh Province. In the first half of this year, the coal industry churned out 20.3 million tonnes of coal, down 5 per cent compared to the same period last year. — VNA/VNS Photo Nguyen Dan
HA NOI — The Viet Nam National Coal and Mineral Industries Group (Vinacomin) has officially raised its coal production target by 3 million tonnes to 43 million tonnes this year.
Of the total, domestic demand will swallow up more than a half while the remainder will be exported.
Vinacomin said it decided to adjust its original production output to meet increasing domestic demand, especially in the power, fertiliser, paper and cement industries – the country's four largest coal consumers.
This year, Vinacomin estimated that the power industry would need roughly 8.4 million tonnes of coal, while cement makers would use 5.6 million tonnes. The rest would be consumed by fertiliser and paper production industries.
To meet the new output target, the group said it had instructed its affiliates to speed up coal exploitation and to get new mines up and running as well as expand and modernise existing mines Vang Danh, Khanh Hoa and Khe Cham.
In the first half of 2009, the coal industry churned out 20.3 million tonnes of coal, down 5 per cent over the same period last year. Including stored coal, the country sold 21.5 million tonnes, of which 12 million tonnes were exported, Vinacomin said.
Vinacomin deputy general director Nguyen Chien Thang said as of next year, the coal industry would start to cut coal exports to meet rising domestic demand, adding that the country would export coal only when domestic supply exceeded local demand.
Power hungry
Thang estimated that the country would need roughly 43.7 million tonnes of coal next year. The figures for 2015 and 2025 would be roughly 61.4 million and 76.9 million tonnes, respectively.
To meet demand at home, especially for the power industry, the country will have to import roughly 25.5 million tonnes of coal by 2015. The import figure for 2025 will be roughly 27 million tonnes.
Viet Nam has planned to build 13 large-scale, coal-fired power plants in the next seven years to feed electricity consumption.
However, there has been some concern that power plants in central and southern regions would have to import coal so as to ensure production.
Thang warned it would be difficult to maintain a stable long-term supply from abroad because foreign coal producers would not sign long-term contracts for large volumes.
Deputy Minister of Industry and Trade Do Huu Hao said in the short-term, coal for power plants would be still be supplied from home.
The country could expect exploitation plans underway in the Hong (Red) River coal basin to supply domestic demand in the future. — VNS