First LPG flows from refinery
(07-07-2009)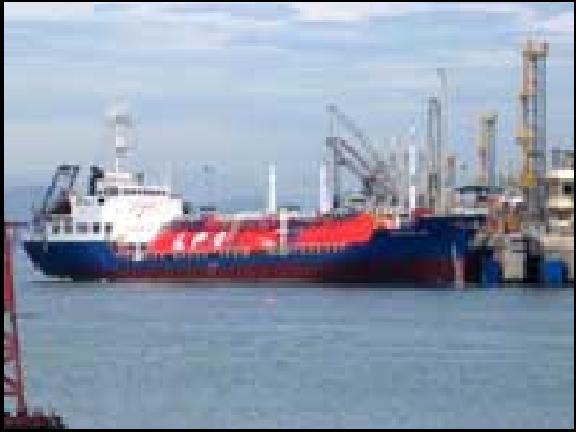 LPG is loaded onto a vessel at Dung Quat Oil Refinery's Port in Quang Ngai Province. Dung Quat Refinery will operate at full capacity and sell its products nationwide by August 25 this year. — VNA/VNS Photo Ngoc Tuan
QUANG NGAI — Dung Quat, the nation's first oil refinery, has turned out its first shipment of nearly 7,000 tonnes of liquefied petroleum gas (LPG).
The gas was loaded on three vessels operated by PV Gas South and PV Gas North, two subsidiaries of the Viet Nam Oil and Gas Group (PetroVietnam) at Dung Quat Refinery's port in the central province of Quang Ngai last Saturday.
Nguyen Hoai Giang, general director of Binh Son Refinery-Petrochemical Co., the operator of Dung Quat Refinery, said the successful production of LPG marks a technological milestone for the refinery.
"Now we can say that Dung Quat Refinery can be run safely and successfully," said Giang.
The refinery has also produced 20,000cu.m of A92 petrol of standard quality.
Some 7,000 tonnes of Dung Quat's A92 petrol will be sold in the local market beginning tomorrow.
The refinery's other products like diesel, kerosene and A1 aviation fuel will also be sold in the market this month.
Giang said Dung Quat Refinery will operate at full capacity and sell its products nationwide by August 25 this year. — VNS